New York Rangers 3rd in Metropolitan (19-12-3) -107 vs. New Jersey Devils 2nd in Metropolitan (19-9-5)  -103 Thursday 12/21/17 @ 7:00pm
The Rangers head to New Jersey to take on the Devils Thursday night. The Rangers are on a 3-game winning streak coming off a 4-1 win against the Anaheim Ducks. The Devils are on a 2-game winning streak coming off a 5-3 win against the Ducks as well. Both teams have played against one another twice this season at Madison Square Garden, each splitting both games. The Rangers are 5-7-0 on the road this season. The Devils are 9-5-2 at home. They're on a 3-game home winning streak averaging 5 goals a game, and are outscoring opponents 15-5 over that span.
Let's look at both teams statistically: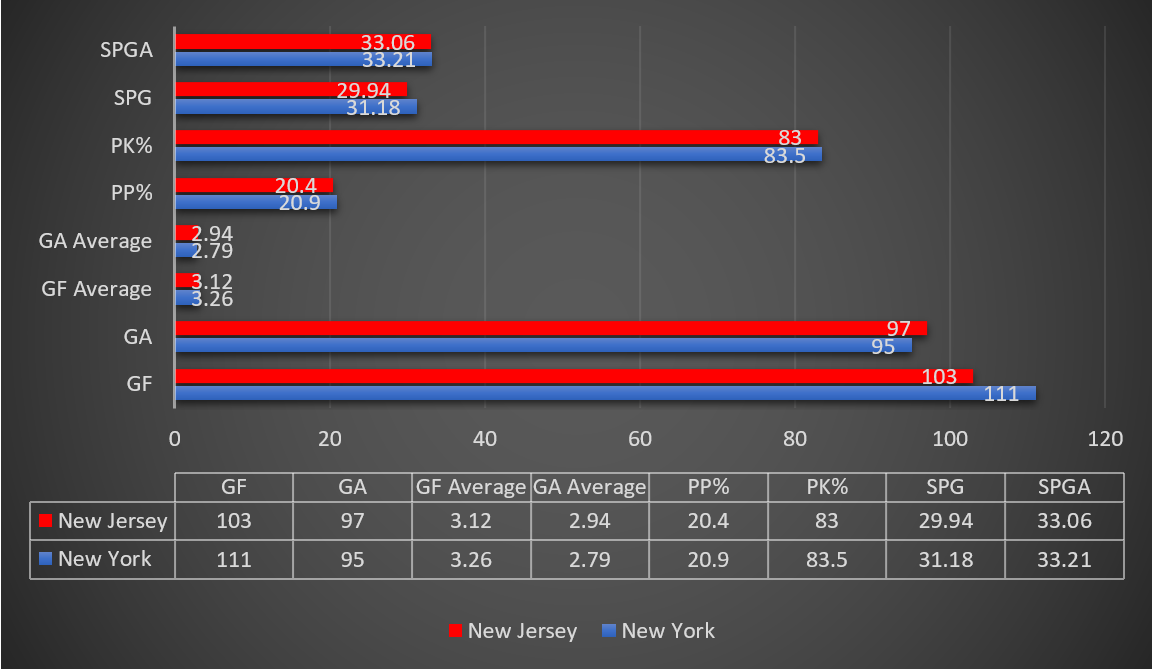 Both teams have similar numbers and aren't far off from a statistical standpoint. New York is ranked 9th on the PP and 5th on the PK in the league. Their PP declined when forward Mika Zibanejad was out with a concussion, since he's back in the lineup the PP should get better. The Rangers give up a lot of shots per game, they rank at 4th most in the entire league. As for the Devils, they're right behind the Rangers giving up shots, they rank 5th. Their PP is ranked 13th and their PK 9th. Not terrible, but could be better.
We will most likely be seeing Henrik Lundqvist in net, although he played back to back games over the weekend, he's 4-1-0 in his last 5 games with a .938 SV % and a GAA of 2.00. Hank has been great of late and really helps keep the team in close games. His career stats against the Devils are outstanding. He's 36-16-7 with a GAA of 1.91 and a SV % of .931 including 8 shutouts, which is his most against any team.
On the other side of the net will be Corey Schneider, he is 3-1-1 in his last 5 with a GAA of 2.66 and a SV% of .903. His career numbers against the Rangers aren't anything to brag about, he's 5-6-3 with a GAA of 2.47 and a SV% of .918. Schneider let's remember hasn't played the amount of games as Lundqvist, but his record against the Rangers isn't very promising.
Both teams head to head the past 10 games:
| | | |
| --- | --- | --- |
| Team | Rangers | Devils |
| Record | 5-3-2 | 5-3-2 |
| GF | 2.80 | 2.40 |
| SPG Average | 32.40 | 27.70 |
| PPG | 3 | 7 |
| PP% | 10.71% | 23.33% |
| PK% | 76.67% | 89.29% |
Both team's records are dead even in the last 10. The Devils special teams numbers are much better than the Rangers. I'm feeling confident with the Rangers in this one with the way Lundqvist has been playing. If he doesn't get the start I would wager on New Jersey. Take the Rangers at -107