NFL Power Rankings and Week 11 Picks
Provided by Jack Cameron for Wannamakeabet.com
NFL WEEK 11
Welcome back NFL Fans! Week 10 of the 2022 season is behind us, and it's time to calculate the NFL Predictions for Week 11. @TheBrysh Power Rankings (PR's) are calculated using a proprietary algorithm, @TheBrysh Power Rankings are also used to calculate the weekly predictions. Week 10 predictions for @TheBrysh were a measly 4/14, for a season total of 81/149 or 54% on straight up wins. As the weeks progress, the numbers get dialed in and the predictions become even more accurate. Point spreads are courtesy of Wannamakeabet.com and are accurate at the time of writing.  Before we begin, here are this week's power rankings: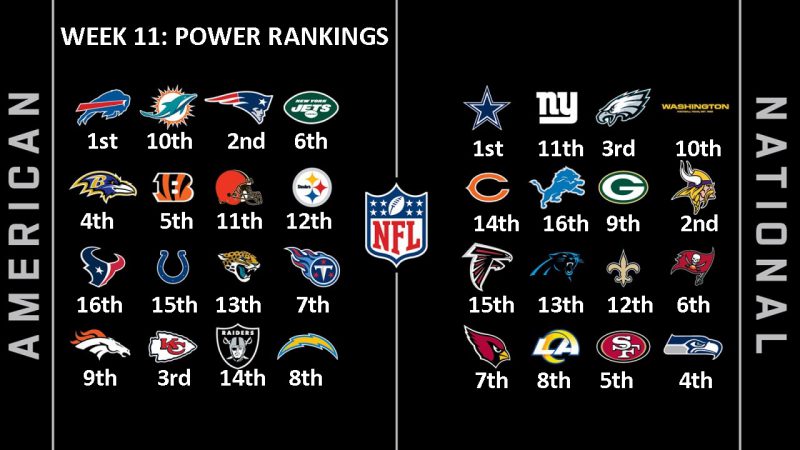 THURSDAY NIGHT GAME
Tennessee Titans @ Green Bay Packers(-1.5) The Packers are riding a high after their upset win over the Dallas Cowboys in Week 10. The visiting Titans will be tough to stop with the horsepower of RB Derrick Henry, who has 923 yards rushing in only 9 games. @TheBrysh is calling for an UPSET, Titans 24-23.
EARLY SUNDAY GAMES
Chicago Bears @ Atlanta Falcons(-3.5) What does Bears QB Justin Fields have to do to buy a win this year, besides play for another team? @TheBrysh predicts Fields will run roughshod, but as usual it will not be enough to get the win. The Falcons are well rested from a long week, and averaging over 26 PPG in the last 5 games, take the Falcons 27-25.
Cleveland Browns @ Buffalo Bills(-7) When a top-notch team like the Bills blows a game you can be sure of one thing, they are looking for redemption! Cleveland also imploded against the Dolphins, but the Browns aren't top-notch. A snow storm forecast for Buffalo may play a part in the decision, I'll take the Bills 30-14.
Philadelphia Eagles(-9) @ Indianapolis Colts The Eagles are another top-notch team looking for redemption, the Colts are riding high after a win last week. As weak as the Eagles are at stopping the run, Indy is even weaker running the ball. The Eagles will bull-rush the Colts to an early lead and then coast to a 25-21 win.
Detroit Lions @ NY Giants(-4) The Giants are going to be counting on RB Saquon Barkley to have a big game against the anemic Lions. Detroit may have won last week, but they are still the weakest team in the NFC. The Point Spread of only -4 on the Giants is generous toward the Lions, take the Giants 31-24.
NY Jets @ New England Patriots(-4) Both of these teams have been up and down all season, which versions of the Pat's and the Jets will show up on Sunday? One of these teams will move on to a 7-3 record to top the AFC East with the Dolphins. In a matchup this close I can't bet against HC Bill Belichick, take his Pat's 36-30.
LA Rams @ New Orleans Saints(-4) The Super Bowl Champion Rams do not look like the same team this season, offensively at least. Who will the Saints wheel out at QB, Jameis Winston or Andy Dalton? This looks like a low scoring affair, @TheBrysh will go with the home team Saints to win 20-18.
Washington Commanders(-3.5) @ Houston Texans A Monday Night Football victory, against the Eagles no less, will definitely put some swagger into the step of the Commanders. The Texans are too busy eyeing up the number 1 draft pick to put up a struggle. The visiting Commanders should squeak out a 31-28 win.
Carolina Panthers @ Baltimore Ravens(-12.5) With an injured QB PJ Walker, the Panthers will activate Baker Mayfield and cross their fingers. The Ravens defence is playing like the "real deal", and should keep Carolina at bay. Look for Baltimore to extend their winning streak to 4 games with a home field win 35-22. 
LATE SUNDAY GAMES
Las Vegas Raiders @ Denver Broncos(-2.5) Just when you thought the overrated Raiders were bad, they get worse. With a home field advantage, look for Broncos QB Russell Wilson to scramble with ease and find targets all night long. A -2.5 point spread is a gift, so take the Broncos to win 26-20.
Kansas City Chiefs(-6) @ LA Chargers Without WR's Keenan Allen and Mike Williams, Chargers QB Justin Herbert is very ordinary. Chiefs QB Patrick Mahomes is due for another 400+ yard passing game, which should put this one out of LA's reach. Kansas City will have no problem putting the Chargers away in a 37-29 victory.
Dallas Cowboys(-2) @ Minnesota Vikings This is the @TheBrysh game to watch this week with 2 of the top 3 teams in the NFC matched up. Cowboys RB's Ezekiel Elliot and Tony Pollard should be in the lineup for a one-two punch. The Vike's just beat the Bills in overtime, and I predict will UPSET the Cowboys 33-32.
Cincinnati Bengals(-4.5) @ Pittsburgh Steelers If Week 1 was "writing on the wall", the Bengals' Playoff hopes could be in jeopardy. Pittsburgh is coming off of a convincing win against the Saints, but Cincy is rested from a bye week. Look for the Bengals to handoff to RB Joe Mixon 20+ times to win it, Bengals 28-24.
MONDAY NIGHT FOOTBALL
San Francisco 49'ers(-7.5) vs Arizona Cardinals The Estadio Azteca, in Mexico City will be a tequila saturated fiesta of epic proportions for Monday Night Football. The Cardinals may be without QB Kyler Murray, they'll miss him when they go up against DE Nick Bosa and his 'Niners defense. Bet on the 49'ers to win 24-21.
Check out @TheBrysh full articles at www.shadysportsnetwork.com Join the CFL Fans Group Join the XFL Fans Group  Join the USFL Fans Group
Written by: Jack Cameron @TheBrysh 
Join Wannamakeabet.com today.  Join our monthly "All Sports" Betting Championship today where you bet points instead of real money on all the major pro sports (NFL, College Football, NBA, NHL, MLB, and pro soccer).  We'll put you into a league and give you a bankroll of 50,000 points so you can bet on every game on the board.  And you get 50,000 more points every week.  Whomever has the most points at the end of the league is the winner and wins real cash based on how many players join!  Join today, it's free!