There are many sports fans out there who have never placed a sports bet and are curious about how it works.  In this article we'll take you through the process of how to place a sports bet and show you how to do it with units instead of real money.  So if you wanna know how to place a sports bet, you've come to the right place.    Wannamakeabet.com is a community of sports bettors who are passionate about sports and placing bets, but understand the inherent danger and risk in betting real money.  We give you a game that lets you enjoy the thrill with your friends and family without the risk of losing real money in the process.
Step 1.  Become a Member. 
First of all, you must register at our site and become a member.  This takes a few seconds and gives you a username and password, like any other site on the internet.
Step 2.  Your League. 
We automatically put all members of the site into our free monthly league when they join.  So all the bets you place at the site will be graded and you will be ranked according to how all the other players in your league are performing.  You can also start your own private league at any time.  This gives you the ability to set your own rules and only invite the people you want to your league.
Step 3.  Placing your bets.   Ready for "Action". 
Go to the Action tab at the top of the page (see below).  This will show you all the sports that you can bet on in our All Sports league, which is the league you are placed into by default.  In general we support six major sport types.  College and Pro football, college and pro basketball, the NHL, MLB, and Soccer.

After you highlight Pro Football, for example, you will chose the type of bet you want to place.  You have four options.  Sides/Totals, Teasers, Parlays, and Reverses.  Each of these bets have different payouts and rules which we will explain in different "How To" articles in our FAQs.

For the purpose of this article, we are going to explain how to place a straight or "side" wager and a total.  These are the most common types of bets for games that have point spreads associated with them.   Once you pick PRO FOOTBALL and Sides/Totals, you will be presented with the games that are available from every game that currently has a line associated with it.  Like the list below from today.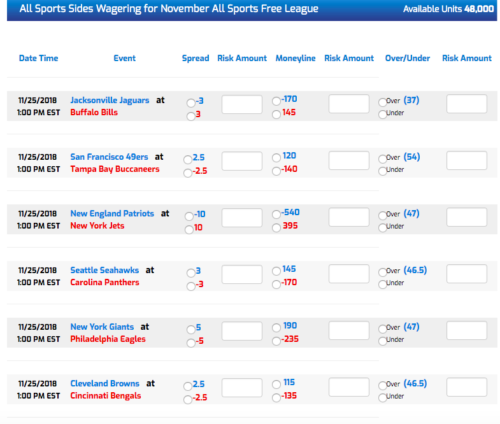 Confirming Your Wagers.  
Choose the team that you want to bet on by selecting the circle next to that team.  This is where it is important that you understand the point spreads and the odds and how they function.  For this example, we're going to pick the Seattle Seahawks and the Over for the game they are playing against the Carolina Panthers.  For points sports like basketball and football, the odds are -110 to win 100.  This means you must risk 110 to win units.  In our example below, we are risking 1100 to win 1,000.  This is displayed on the bet slip before you confirm your wager.  This is what the bet will look like after you set it up for confirmation.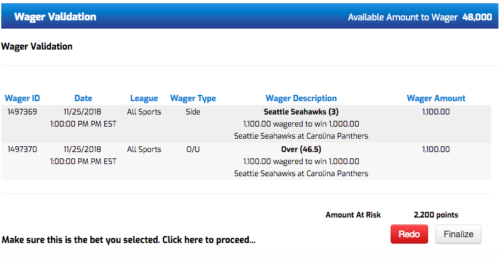 That's it.  You have officially placed two wagers at Wannamakeabet.com.  It's a best practice to make sure both of your bets are in your accounting to ensure that they went through properly.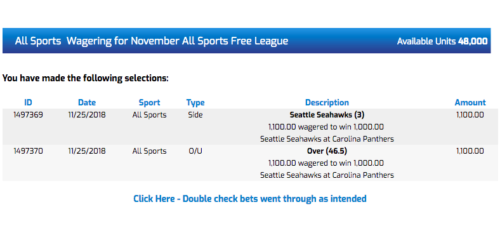 As we like to say at this point… Good luck with your selections!